Why Choose CSA?
OFFERING FULL-SERVICE TRAVEL INSURANCE SOLUTIONS FOR OVER 20 YEARS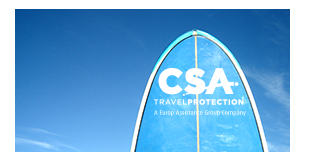 At CSA Travel Protection, we are dedicated to providing sound, reasonably-priced insurance coverage and assistance services to safeguard family vacation, couples' retreats, business travel and more. We design our plans to protect the diverse needs of today's traveler.
With CSA you get:
Award-winning customer service
24/7 Emergency assistance hotline from anywhere in the world, plus access to a global network of physicians
Professional, in-house claims processing
Concierge and pet relocation assistance services, identity theft resolution and more
10-day free look period to cancel your plan and receive a full plan cost refund*
A company with 20-plus years' experience that understands you
*CSA Travel Protection will provide a refund of your plan cost if you cancel your plan within 10 days of purchase and have not filed a claim or departed on your trip.
About CSA Travel Protection
CSA Travel Protection, a Generali Global Assistance (GGA) company, is dedicated to providing valuable travel insurance, emergency assistance services, and peace of mind one deserves while traveling. CSA has developed a reputation for standing behind its customers and by offering products and services to meet their needs. Through excellent customer service, extensive experience and industry-leading innovation, CSA is with its clients every step of the way, whenever and wherever they are needed.