CSA In the News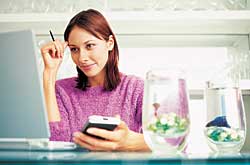 CSA Travel Protection's travel insurance information makes the news. We'll be updating this page regularly with excerpts from consumer and travel trade print and online articles.
---
Travel Insurance Tips
Since Sept. 11, 2001, sales of travel insurance have tripled as travelers try to protect themselves against away-from-home emergencies.
In the past year, there's been another wave of travel uncertainty – higher fuel prices pushing up airfares, crowded and canceled flights and airlines going bankrupt. More people are asking about what protection travel insurance can offer.
One of the larger travel insurance companies is CSA Travel Protection, based in San Diego. Les Maine, president, owner and chief executive officer, said that in recent months the number of calls from travelers has shot up about 20 percent.
He cited a variety of factors: increased airport security, bankruptcy, and the TSA tightening of regulations on carry-on liquids, which made more people check bags.
"Air travel has become a necessary evil," he said. "Consumers have become a lot more aware of the hassle of travel."
He said his company sells coverage for trip cancellation, for when airlines go under (supplier default) and helps find bags, often faster than the airlines.
Honolulu Advertiser

April 24, 2008
---
Insuring a Good Flight
Groundings, bankruptcies and the outright closure of airlines in recent weeks have sparked a flurry of interest among travelers curious about insurance to protect them against those hazards.
Wait too long, though, and your risk of not finding coverage increases, especially if it's a carrier that has filed for bankruptcy or you're headed to an area where a tropical storm is now a full-fledged hurricane.
"It's analogous to buying homeowner's insurance when the house is on fire," said Bob Chambers, director of operations at CSA. "Once things such as a bankruptcy is announced, the element of risk has gone up and coverages can disappear."
Denver Post

April 20, 2008
---
Entertainment For Stranded Travelers
To alleviate the anxiety of canceled and delayed flights, travel insurance company CSA Travel Protection offers these ways travelers can entertain themselves at airports:
Create intriguing, soap opera-like background stories for other waiting passengers.
Play the "count the Starbucks in the terminal" game.
Count how many times in one hour you hear the "do not leave your bags unattended" announcement.
Hog all power outlets by charging your phone, laptop and iPod at the same time.
Buy $15 margaritas and $10 sandwiches for all your "new friends."
Return all the unclaimed smart carts.
San Diego Union-Tribune

April 12, 2008
---
CSA Travel Protection Releases Two Travel Insurance Plans
Travel professionals can now offer consumers greater vacation value, flexibility and service when purchasing travel insurance. CSA Travel Protection (CSA) this week released two newly enhanced travel insurance products, Freestyle and Freestyle Luxe. Both travel insurance plans afford travelers greater flexibility with acceptance of pre-existing medical conditions up to final trip payment.
For customers who value common-sense coverage, CSA Freestyle now offers more protection against the unexpected. In addition to now accepting pre-existing medical conditions, the Freestyle plan also includes a no-out-of-pocket medical expense service, missed connection coverage, and rental car collision coverage.
For busy professional and luxury travelers where security and flexibility are paramount, CSA Freestyle Luxe includes higher benefit levels, cancellation and interruption coverage for business reasons, and broader optional cancel-for-any-reason coverage, as well as coverage for adventure travelers. Additionally, the plan includes supplier default coverage, an ever increasing issue in today's travel market.
ModernAgent Magazine

April 9, 2008